My son has been using a new homeschool writing curriculum, Flight 2 Paragraph Writing from Here to Help Learning.  Here to Help learning is a homeschool writing program teaching paragraph and essay writing for grades 1-6.  This is an online program with engaging videos that teach the lessons as well as providing printable worksheets and scripted lesson plans.  Students finish several complete writing projects in a Flight Plan and all the lessons are taught with a Biblical world view.
I have been using this curriculum for my 7th grade son. He has always disliked writing and I felt he could use some more work in this area. Knowing that this curriculum was developed for 1-6th graders I learned by looking through the information on Here to Help Learning that it would be easy to adapt this program for an older child.  After taking the placement test to determine his writing level we found that the level 2 paragraph flight plan would be the one for him.  With the online membership we had access to all the levels which eased my mind knowing we could switch to a different level if it wasn't a good fit.
The recommended lesson time is twice a week on two separate days. There are 32 Lessons in a Flight and a "Flight" is one year of instruction.  The first lesson day scheduled is for the filmed instruction.  Each filmed lesson consists of five components that move the student step by step through the writing process, Scheduling one hour to complete all five parts.  The second scheduled lesson day is to complete the flying solo (independent work) assignments.  My son and I agreed that we could move though the lessons more quickly because he is older and anxious to move up to essay writing.    We did the filmed lesson as well as the independent work in one day and we did this more than 2 times a week.  He was comfortable at this pace and we finished several projects in our review time.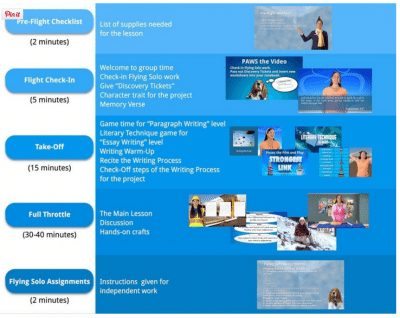 The filmed instruction portion is outlined here.  Each of the steps that the student will be eventually taking when doing their own work is gone over in detail in these videos.
I have in the past questioned how to go about critiquing my children's writing.  With Here to Help Learning I was provided with check lists to help me work with my son to improve his writing as well as offer praise.  By watching the filmed instruction with my son I found a model for my role as the teacher.  There was no prep time for me as a teacher, everything is taken care of.  I was there to offer support, play the games with him, help him brainstorm and to critique his work.  The videos are extremely well done and motivating, it is evident that Mrs. Mora has a passion for writing and teaching.  The lessons are well thought out down to every detail.  By watching Mrs. Mara interact with children in the videos my son was motivated and challenged.
In the first project we did, the assignment was for my son to write about a place that he had been.  In the video Mrs. Mora read her paragraph of a place that she had been while we watched a video of her actually in that place.  This helped my son to realize what is needed in writing to help the reader feel, hear, taste, smell and see everything that she actually saw.
In the second project my son created a potato person and wrote a very funny paragraph about him.  At first he thought he was too old for this, but soon realized how fun it could be to write about a potato person that he had made and have the opportunity to invent and describe his personality as well.
I appreciated that my son was encouraged by memorizing Collossians 3:17 to do it all in the name of the Lord Jesus at the beginning of the lessons.  The Christian aspects of this program were never overpowering but extremely refreshing and mingled throughout all lessons and videos.
I think this is an excellent writing program for elementary age kids.  My 7th grader who thought he was too old for some things completed the lessons with ease and no complaints and is moving quickly through the flight plan so that he can move on to the next plan.    I think this is what was needed to motivate him to write more.  I am looking forward to him learning essay writing in Flight Plan 2 as well as writing his own book in Flight Plan 3.  Here to Help Learning would also work well in a homeschool coop setting.