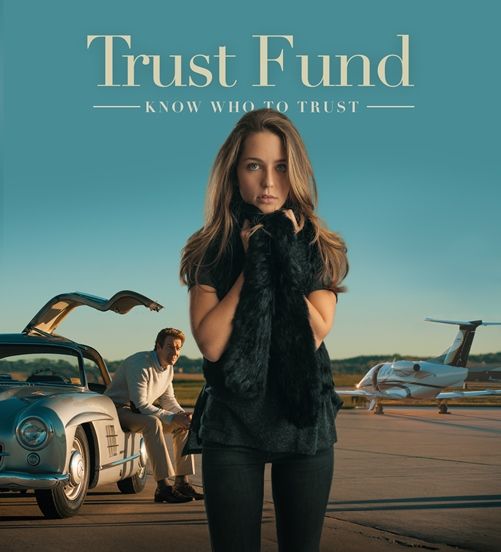 Today I want to introduce you to the faith-based movie Trust Fund from Mapelle Films.  Finding good quality family movies for families with older children isn't easy especially one that pleases all the members of our family.  My daughter who is 19 and I watched it together. It looked to be a good one for us girls, but I think after watching it the boys will enjoy it as well.  There was enough action and suspense to keep them happy.
Trust Fund is based on the prodigal son parable, found in Luke 15.  This is a story of 2 sisters Audrey and Reese.  Audrey works with their dad in their publishing company and Reese is a writer.
     At the beginning of the movie, Reese is feeling restless and uninspired to write. She has been writing her first book and can't seem to finish it.  Reese is confronted by her father who would like her to find a job to help her with finances.  Reese has just returned from a trip to Italy where she had become interested in a man named Milo.  She is not interested in taking the job offered to her by her father within the company and fritters away her time dreaming of Italy.  Meanwhile she finds out that when her mother died she left money for her and her sister in a trust fund.  She takes the job within her fathers company and spends her working hours figuring out how to transfer money out of her trust fund.
     She transfers a substantial amount of money into her account and heads off to Italy.  This is where the suspense begins and we watch Reese make mistake after mistake.  This is also where we meet Sophia, a friend of Reese, who adds a little humor to the intense situations Reese finds herself in.
      Of course if you know the parable of the Prodigal Son you know what happens next, but the story doesn't end there.  We get to see how the prodigal Reese has changed, how her father treats her and her sister, how her sister copes with the return of the prodigal and mostly how Reese deals with the consequences of her actions.
      I like movies that make me laugh, cry, make me a little nervous at times and leave me feeling happy. This movie did all those things. The actors were super and the quality was top notch.  It is not a preachy movie, God or the Bible are not even mentioned. There were no inappropriate scenes, no language to make you uncomfortable.  The parable is there though for us to study and learn from. Mapelle Films has designed a download study guide for small groups to dig deeper into the themes of the movie!  This study guide really brings out the Christian aspects of the movie.
      You will also want to check out the companion book to this movie, 
Love Was Near.  Read more reviews by the crew by clicking the banner below as some are also reviewing this book as well.