Welcome to the Bear Creek Ranch!


We are a family owned business by Fort Ransom, North Dakota. We raise Registered Romney sheep, white and natural. Contact us for breeding stock we may have available.

All of our products are made from wool that was raised here at the Bear Creek Ranch. Beautiful fiber art inspired by nature, by fiber artist Teresa Perleberg. Check out her one of a kind art in the felting gallery, or visit the store to purchase a piece of art to call your own!

We also provide supplies, kits and basic felting information. Learn how to needle felt with one of our kits All of our kits come with everything you need to make your own sculpture and detailed instructions, and all the wool provided comes from our own flock! Visit the store to see the kits and supplies available. Want to learn how to Needle felt? Live nearby? Contact Bear Creek Design to set up a class with Teresa!

Make sure to stop by the farm news page to keep updated on our new arrivals, and any events we may be attending! And please take a virtual tour of the Bear Creek Ranch and meet the farm residents.
This little guy is simply adorable.  We crossed a few of our Romney Ewes this year with our new Blue Faced Leicester Ram.  The crosses are all adorable, but this one is my favorite.  He is so full of energy it is hard to get a picture of him standing still long enough.  I love his ears and the grey goggles around his eyes.  He is extra friendly as well, allowing me to hold him and snuggle.  :-)
More and more babies everyday!  I love this time of year.  :-)
"Baby Burundi"

Meet "Zambia"  our first lamb of 2014.  He is also our very first Blue Faced Leicester/Romney cross.  Love his ears, they are definitely BFL!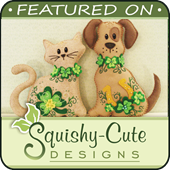 Look for my artist interview at Squishy Cute Designs and while you are there check out all their beautiful embroidery patterns including 2 free patterns inspired by my needle felted art.
I find this to be cute and inspiring.  Not inspiring enough to do the yoga, but to make needle felted bunnies doing yoga.  :-)
Finishing up March with a forecasted blizzard here in North Dakota.  I thought March started like a lion, but maybe I was mistaken.  Above are some pictures of what I have been busy with the last part of March.
Our sheep have not been shorn yet.  We had a couple inches of snow the night before the shearer was to arrive.  The sheep were out in the snow since I wasn't expecting it and so the shearer had to move on because the sheep were wet.  We are searching for another sheep shearer in the area, but have not had much luck.  Our lambs are due any day now, and it is so much nicer to have the wool out of the way before lambing.  I will be posting pictures soon of new baby lambs and hopefully freshly shorn ewes.
Felting projects completed in March 2014.  Available to purchase in my Etsy shop.
This is where I sit most days and sculpt animals and snowmen out of wool.  (It doesn't always look this organized!)
The desk sits in a corner of our living room right by a big window where I can look out at the sheep, cattle and birds.
My kids made these beautiful clay bowls and I have put them to good use.
I have made a few snowmen scarves and hats.  Remember, my goal is to make 200 snowmen this year.   So far I am on schedule.

Baby lambs are less than a month away!  I am getting excited.  :-)  We are shearing next week, so look for some shearing pictures soon.
My first project of March was a lamb.  :-)  Not because March came in like a lamb by any means!  It is still cold here and we are only a few weeks away from our baby lambs arriving.  Most of the above projects can be purchased in my Etsy shop.