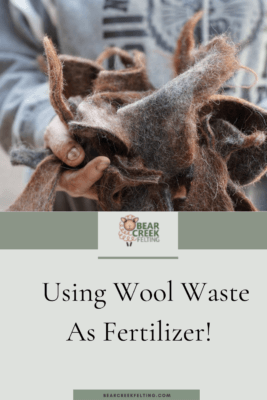 It's planting season here in North Dakota. If you're a farm girl like me, you'll already know that spring is the first time in the year that we get out our shovels and start planting. Whether you're a large scale farmer or you just find yourself doing a little backyard gardening, however, you should know that fertilizers are very important to the process. 
As a farm girl, I became familiar with the commonly used fertilizers. We would add manure and other types of fertilizers to the soil when preparing the land. Fertilizers help to provide a more nutrient-filled environment for plants. They help to improve the quality of your plant, and it's bloom.
At Shepherd Industries, we make a variety of products from our wool. We use the wool from our own farm-raised alpacas and sheep to make needle felting cushions, wool roving, kitty toys, insoles, yarn, and so on. We also have our own fiber mill. So, we process our own wool as well as orders sent to us from all across the country. We would discard pounds upon pounds of wool waste during our early days. But, as time passed, we decided we had to find a way to recycle all the scraps of wool that we go through per year. 
After years of operation and research, we found a great way to use our wool cuttings. We found that our wool scraps are pretty good alternatives to commonly used fertilizers, and it's been an amazing journey since. Our research revealed that adding either our felted disks or scraps before adding soil, eliminated the need for any other fertilizer.

What makes our felted fertilizer great is the fact that unlike typical fertilizers, they also aid in moisture retention. This helps to reduce watering frequency. They somewhat act as feeding regulators. While they're decomposing, they're providing all the nutrients your plant needs for healthy growth. And, they're also holding water and releasing it as needed. So, the felted fertilizers are watering your plant when needed while preventing your plant from soaking up too much water than needed at any given time.
Incorporating felted fertilizer into your planting process is very simple. If you're transplanting a potted plant, you can add them at the base of the pot before adding your soil. You can also line the sides of your pot. They are perfect to use for indoor potted plants without drainage. All you would need to do is add enough of the wool fertilizer to the pot, about a little more than half full. For large pots, this is perfect because it makes them much lighter and easy to move. 
When planting outdoors, the technique is pretty much the same. When you plow the land, before sewing, add the felted fertilizer in the soil. For transplanting, the same thing applies. You can choose to water your soil after you have added the plant or seed, or after you have added he felted fertilizer. Either way works for us just fine. Just remember to always add the felted fertilizer under the soil. 
Since we discovered the power of our wool waste, we've added it to the soil for everything that we've planted. The results have been stellar. And, just in case you're wondering, our felted fertilizer can be used with all types of plants. So, you can add them when planting your trees, shrubs, flowers, and just about anything. We now have our all-natural alpaca and wool felted fertilizer in 1lb bags as well as packs of 12 disks, which are just small round pieces we cut out.  Whether you're a farmer or gardening enthusiasts, these fertilizers are a great addition to your routine.