Welcome to Bear Creek,
I'm Teresa Perleberg a needle felting sculpture artist, raising my own flock of sheep and teaching others how to felt as well as sharing my farm and homeschooling experiences.
~Sheep, wool, farm-life, spinning, dyeing, knitting is what I love.
I've been raising sheep and needle felting since 2006, opening Bear Creek Felting in 2008.
We raise cattle, registered Romney, Blue Faced Leicester and Wensleydale sheep.
After I was introduced to needle felting I was hooked and haven't stopped since, not realizing I had any artistic talents until I found wool.
I opened an Etsy shop in 2008 with over 6,000 sales to date.  Sending packages to every state and 28 countries.
Honored to be featured in North Dakota Living, Better Homes and Gardens, Mary Jane's Farm, Sheep, Australia's Homespun magazine and the UK's Cross Stitchers magazine.
I have helped thousands learn to felt with my DIY kits, classes and online classes.
My sculptures are guaranteed to make you or a loved one smile.
When I'm not felting, designing needle felting kits, knitting, spinning or teaching felting classes you will find me enjoying my family and life on a farm.  You might find me out taking pictures of my kids, lambs, cows, kittens, chickens or snuggled up reading a book to my family.
If you're dying to know more, here are 5 things you may want to know, or not. . .
I gather with a group of gals every month where we talk sheep, learn from each other, knit, spin, dye, eat, share what we have made, laugh and have lots of fun.  We call ourselves the Woolly Women.
I have 2 kids that I homeschool and 2 homeschool graduates.
I love wool so much I not only hoard wool, I hoard sheep as well.  🙂  I started out with all Romney sheep, but now have Romney, Blue Faced Leicester and Wensleydales.
I grew up raking hay, showing cattle, riding horse, driving grain trucks, working cattle . . . farm girl stuff.  Very thankful to be able to raise my children in the same way.
I have only stabbed the felting needle all the way through my finger once!
Ready to learn more about my sheep, online classes, art or kits?
Thanks for stopping by my Website,
Teresa Perleberg
Teresa's kits provide everything needed to create a unique and fabulous character. I enjoy learning new skills, and I see there will be some with this adorable bunny. Teresa's instructions make new skills attainable. Thank you!
Teresa's items and the stories behind her shop are inspiring. Her kits come beautifully packaged and I felt so connected to her, knowing that the wool in my kit came from her own sheep. She was thoughtful and attentive. I will definitely order from her in the future – and the shipping was extremely speedy! Cannot recommend highly enough.
It is absolutely
adorable. I can not express enough how close it resembles the real animal. I purchased a bison from her a couple years ago and that is equally amazing. This is art in the true form.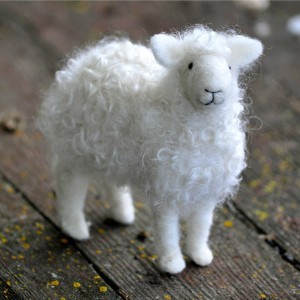 It is so helpful to have an online class! I am able to access it when I can and refer back to ensure I am on track. I made my first lamb (sheep) and I am working on my second now – it is amazing to watch these little guys come to life! So enjoyable and stress reducing! Thank you Teresa!