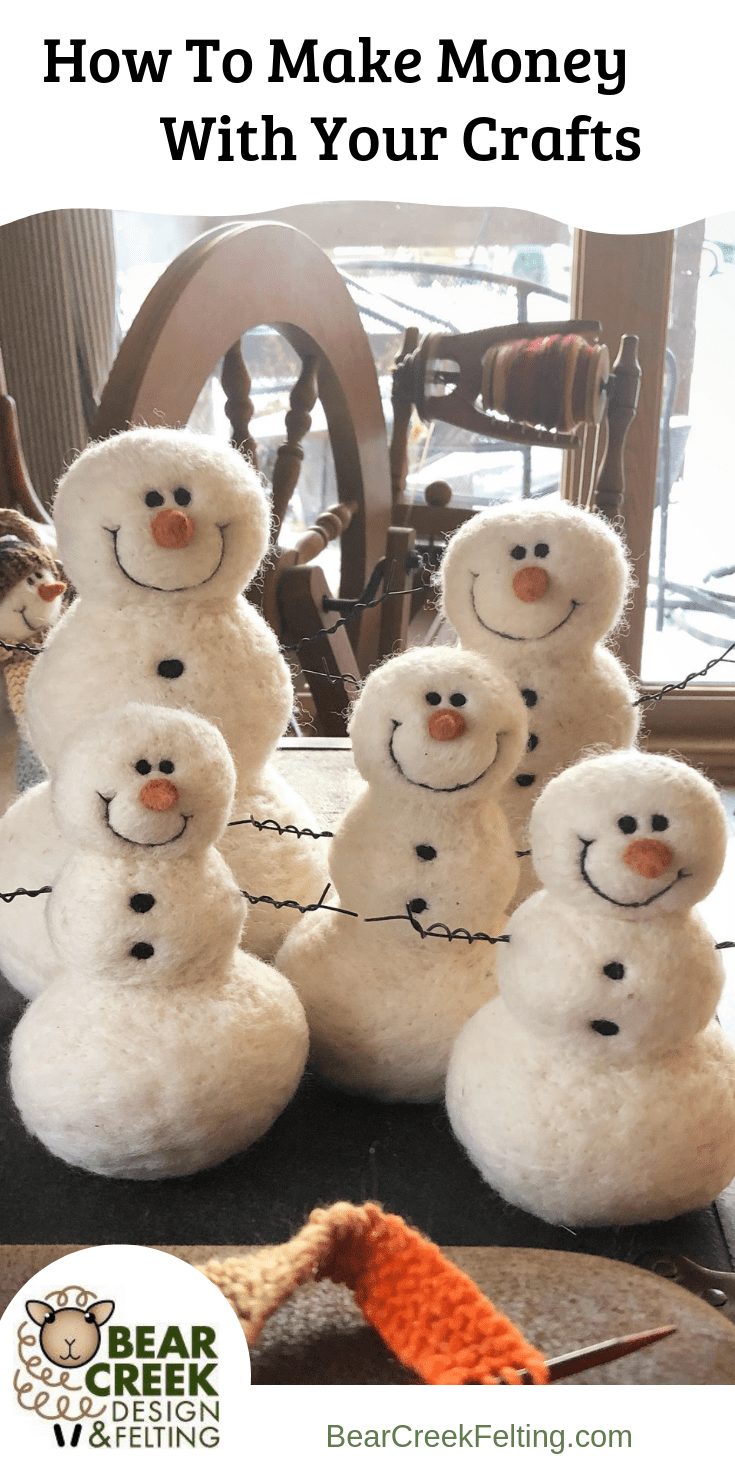 Side hustles—it seems like you can't scroll through Facebook without being bombarded with ads that tell you all of the reasons you should be working on earning an extra source of income. While I'm not here to sell you a course on how to get rich quick, I do want to share that there are so many ways to earn extra money with your crafts! And if it's something you love to do, why not make a little spare change on the side?
 With the internet, we can share our messages far and wide. If you've got a knack for creating needle felted pieces—let me tell you this—there's an entire community of people who would love to purchase your projects as gifts or keepsakes. When we have special skills or talents, we often take it for granted. We forget that there are loads of people out there who admire our creativity and ability, and they wish they had the time or patience to sit down and do what we do! That's pretty neat, huh?
Whether you're a stay at home mom looking to create an income stream or are someone who simply wants to earn enough cash to cover your material costs, there's a place for you! I'm not saying it will be easy, but it will be so worth it. I started selling my needle felted work back in 2008! And while our world has changed so much since then, there's no doubt that the love for needle felted figurines is still going strong.
Head To The Market
Here in North Dakota, we're lucky to have a vibrant community of artisans who gather for farmers' markets and fairs. But if you live in a bustling city that doesn't offer many community events, that's fine! You can find a community on the internet.
Etsy is an incredible online marketplace specifically for handmade, custom, and vintage goodies. It's so fun to scroll through the incredible items from all over the world, and it's even more exciting when you get to sell your own stuff!
For a small commission fee for each item you sell, you can list your needle felted projects and start your own Etsy store! With payments deposited straight to your bank account, it's the simplest way to get your products in front of shoppers.
But, before you start raking in the dough, you're going to need to follow the next few tips to ensure you're set up for success.
Get Social
There are millions of products on Etsy. How will yours get noticed? It's not enough to simply post your items (no matter how beautiful they might be) and hope you get a sale! You're going to have to put in a whole lot of work behind the scenes.
Social media is the best (and cheapest) way to get exposure. Think about it. You have total control of your Facebook, Instagram, and Pinterest. Why not use those platforms to share your love of crafting?
Have you ever looked at needle crafters on Youtube? It's downright addicting! With the camera positioned so you can clearly see the needle turn wool into magical creatures and adorable animals, it's no wonder these videos get tons of views.
The beautiful thing about social media is that you don't have to get fancy. It's authenticity that counts! Using your phone's camera, make a simple video, throw some music in the background and you're done.
Perhaps you're someone who loves to take photos? Start sharing your completed needle felted pieces on Instagram. Do you enjoy the storytelling that goes behind why you chose to craft a particular character? Start a dedicated Facebook page for your needle felted crafts!
Each platform has its quirks, and you're going to have to figure out what works best for you.
Build A Community
Now that you've started sharing your passion with the rest of the world, it's time to build a community. Find other crafters in your hometown or seek out some inspiring creators online. Chat with them, get inspired, and meet new friends! As much as we all love to complain about how technology has taken over our lives, it has done a lot of good as well.
At the Bear Creek Felting Academy community is at the center of what we do. Sure, I'm there to provide tips, techniques, and feedback to help you along your crafting journey, but it's the beautiful community we've built that gets me so excited about the work we do.
If you're looking to take your crafts to the next level, get tips on selling your crafts or want to belong to a group of like-minded people who share the same passion as you, I would love for you to be part of the academy. Click here to learn more!  
If you would like to know more about how I got started selling my crafts you can start here.
Do you sell your crafts? How did you get started? Please, let me know in the comments below!