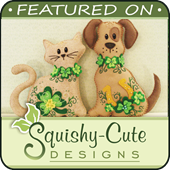 Look for my artist interview at Squishy Cute Designs and while you are there check out all their beautiful embroidery patterns including 2 free patterns inspired by my needle felted art.
Finishing up March with a forecasted blizzard here in North Dakota.  I thought March started like a lion, but maybe I was mistaken.  Above are some pictures of what I have been busy with the last part of March.
Our sheep have not been shorn yet.  We had a couple inches of snow the night before the shearer was to arrive.  The sheep were out in the snow since I wasn't expecting it and so the shearer had to move on because the sheep were wet.  We are searching for another sheep shearer in the area, but have not had much luck.  Our lambs are due any day now, and it is so much nicer to have the wool out of the way before lambing.  I will be posting pictures soon of new baby lambs and hopefully freshly shorn ewes.
Felting projects completed in March 2014.  Available to purchase in my Etsy shop.
This is where I sit most days and sculpt animals and snowmen out of wool.  (It doesn't always look this organized!)
The desk sits in a corner of our living room right by a big window where I can look out at the sheep, cattle and birds.
My kids made these beautiful clay bowls and I have put them to good use.
I have made a few snowmen scarves and hats.  Remember, my goal is to make 200 snowmen this year.   So far I am on schedule.

Baby lambs are less than a month away!  I am getting excited.  :-)  We are shearing next week, so look for some shearing pictures soon.
My first project of March was a lamb.  :-)  Not because March came in like a lamb by any means!  It is still cold here and we are only a few weeks away from our baby lambs arriving.  Most of the above projects can be purchased in my Etsy shop.
A few bunnies and snowmen that I have made since my last posting.  They are available to purchase in my Etsy Shop.  The "Bear Creek Bunnies" are selling quickly.  I try to make and list them every other day, more often when possible.  I will be making more, with balloons and in all different colors, so please keep checking back if you don't find one in my shop.  I have also set a goal of making 17 snowmen a month, so you will continue to see snowmen, even when you may not want to.  :-)
Increased the bunny population today by one.  :-)  She is available in my Etsy shop.
New Bear Creek Bunnies available to purchase in my Etsy shop.
Needle Felting a Donkey.  My latest project completed today.  He is available to purchase here.
I have been asked numerous times if I do commission work.  When first starting out in needle felting I took on several custom orders.  They all turned out well, with happy customers etc.  Over the years I have learned a few things and found that when inspired to make something I could accomplish better sculpting with much less stress.    For example I would be out helping round-up the cows and happened to get some wonderful photographs of one of the cows that I thought was adorable.  I was so excited to felt this particular cow that I started right away that evening, the project didn't take long at all because I could see exactly what I needed to see in my mind and I knew that I could make her.  I could see everything, all the curves and shapes and everything came together so simply.  I couldn't wait to get done because I already could see her finished in my mind and couldn't wait.  She turned out amazing and I loved that sculpture.
Now look at a custom order with me.  Someone contacts me with a custom order for their favorite long hair cat with three different colors in her beautiful striped coat.  They would love to have her sculpted laying on her back because this is how she likes to sleep.  I ask for pictures and alas they could not get a picture of her laying on her back but send me several blurry pictures of her face.  I spend hours searching the internet for pictures of cats sleeping on their backs, I spend several more hours dyeing wool trying to get the exact colors for the cat.  I am ready to begin.  I look at the picture of the cat, and think to myself, I don't think it is very cute at all.  I spend hours on the head because I don't feel I am very good at cats and I really don't like to make long-haired animals.  It doesn't look like the cat in the picture so I spend several more hours trying to adjust and get the long hair to lay just right.  When the cat is finished I look at it and say, "That is the ugliest thing I have ever made."  I send pictures to the customer, they love it, (this is what they say, but I feel bad thinking they hate it but feel pressured to buy it because it is a custom order.)  The entire experience for me was uncomfortable, stressful and humiliating.
I love to felt!  I love to make animals out of wool.  I like to make the animals that I think are cute.  I know I do quality work when I love what I am doing.  I have to admit this, there are some animals out there that I don't think are very cute.
You probably already know the answer to the question.  No, I do not do custom orders.  I will tell you this though, I take Requests.  Requests are much less stressful to me.  Here are some examples of requests:
I saw a picture of a donkey sculpture that you made in Mary Janes Farm Magazine.  I was wondering if you could make another one?  My wife has a birthday in March and I would love to give her one of your donkey sculptures.
I love your "Bear Creek Bunnies".  I would love to see you  make one holding a pink balloon.
I collect Tapir's and was wondering if you would ever consider making one?
I notice you have made some cows, would you consider making a black Angus cow?
I raise Weimaraner dogs, have you ever thought of making one?  I would love it if you did.
These kinds of requests take all the stress away.  They have requested animals they know I have made and love to make.  I write their requests down and do try to get them made within the year if possible.  If an animal is requested that I know I would never make, I make it known.  I love to make things that I know people are looking for.  I love requests!  I even enjoy requests for animals I have never made before because I probably haven't even thought of them yet, and you may inspire me.

I understand wanting to have a sculpture of your favorite pet!  There are many needle felting artists out there that love doing just that and they do an amazing job.  Do a google search for felted pet sculptures and you will find many artists that specialize in personalized  felted pet sculptures.
Not all the sculptures that I make are requests.  I do make some sculptures just because I want to. 

Other sculptures that I make have had many requests.  Sometimes I can't make enough for everyone, but I will try.  I try to notify those that have made requests for a certain animal when one has been completed, but that isn't always that easy.  The best thing to do after making a request is to watch my Facebook page.  I post all my new listing there and Pictures of the "Work In Progress" of my bigger sculptures.
If you are looking for Bear Creek Bunnies or Snowmen, keep in mind that I make them all year.  I try to keep several in my shop at all times.  This isn't always possible, but I do try. If you don't find any in my shop, it is because I can't keep up at the moment, but am doing everything I can to get them made.   I post these to my Facebook page as well.
I list everything in my Etsy shop and only some of my bigger listings here.