I have been working on Bear Creek Bunnies this month along with a few snowmen.  We only have two ewes left to lamb and then I should have more time to dedicate towards felting.  I would like to work on a larger project soon.  I haven't decided what it should be yet though.  I need to make a few more bunnies and of course my 17 snowmen a month.  :-)  A new kit is also in it's beginning stages, hopefully to be completed this summer.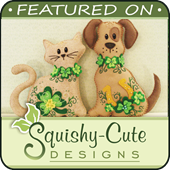 Look for my artist interview at Squishy Cute Designs and while you are there check out all their beautiful embroidery patterns including 2 free patterns inspired by my needle felted art.
Finishing up March with a forecasted blizzard here in North Dakota.  I thought March started like a lion, but maybe I was mistaken.  Above are some pictures of what I have been busy with the last part of March.
Our sheep have not been shorn yet.  We had a couple inches of snow the night before the shearer was to arrive.  The sheep were out in the snow since I wasn't expecting it and so the shearer had to move on because the sheep were wet.  We are searching for another sheep shearer in the area, but have not had much luck.  Our lambs are due any day now, and it is so much nicer to have the wool out of the way before lambing.  I will be posting pictures soon of new baby lambs and hopefully freshly shorn ewes.
Felting projects completed in March 2014.  Available to purchase in my Etsy shop.
This is where I sit most days and sculpt animals and snowmen out of wool.  (It doesn't always look this organized!)
The desk sits in a corner of our living room right by a big window where I can look out at the sheep, cattle and birds.
My kids made these beautiful clay bowls and I have put them to good use.
I have made a few snowmen scarves and hats.  Remember, my goal is to make 200 snowmen this year.   So far I am on schedule.

Baby lambs are less than a month away!  I am getting excited.  :-)  We are shearing next week, so look for some shearing pictures soon.
My first project of March was a lamb.  :-)  Not because March came in like a lamb by any means!  It is still cold here and we are only a few weeks away from our baby lambs arriving.  Most of the above projects can be purchased in my Etsy shop.
A few bunnies and snowmen that I have made since my last posting.  They are available to purchase in my Etsy Shop.  The "Bear Creek Bunnies" are selling quickly.  I try to make and list them every other day, more often when possible.  I will be making more, with balloons and in all different colors, so please keep checking back if you don't find one in my shop.  I have also set a goal of making 17 snowmen a month, so you will continue to see snowmen, even when you may not want to.  :-)
Increased the bunny population today by one.  :-)  She is available in my Etsy shop.
New Bear Creek Bunnies available to purchase in my Etsy shop.
Needle Felting a Donkey.  My latest project completed today.  He is available to purchase here.