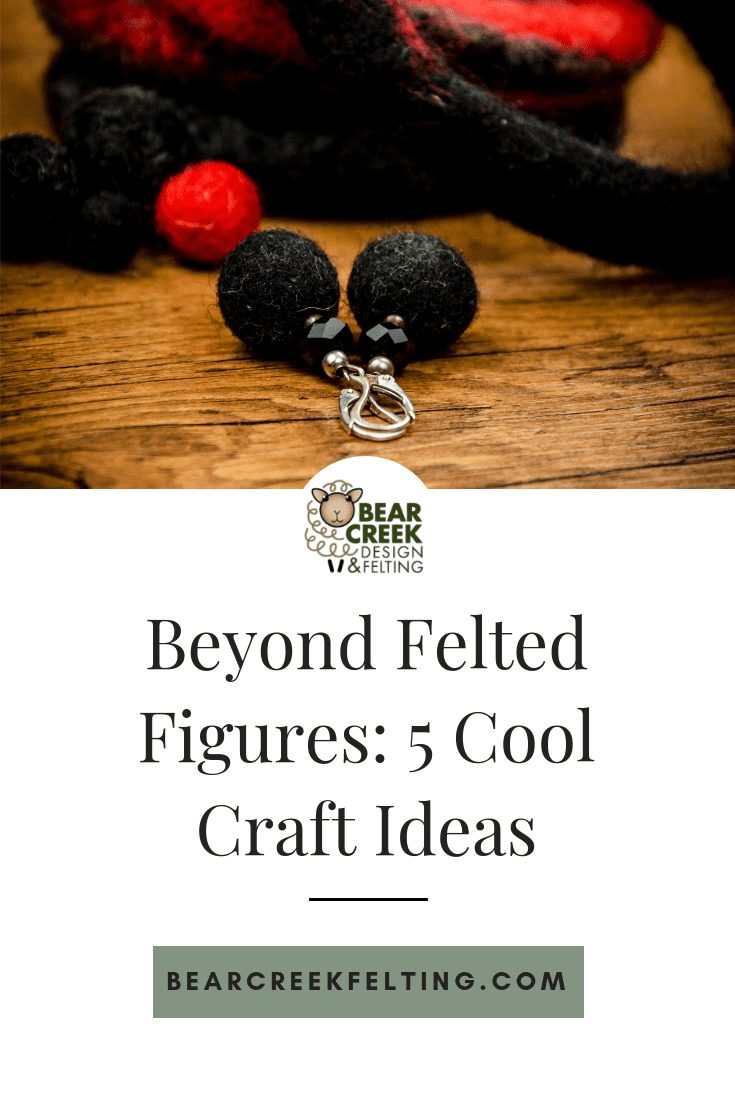 I'm a North Dakota farm girl through and through, and I can't lie, I love animals! I raise cattle and sheep. I grew up riding horses, and I love the fact that I get to bring my kids into this farm life.
That said, I know that not everyone is as obsessed with critters as we are. And while creating these figures feels special—especially as you watch them turn into beautiful, life-like creations—sometimes, you might want to flex your creative muscle differently!
That's part of what attracted me to needle felting. The possibilities are endless. There are no restrictions and no rules, so you should feel more than comfortable felting pieces from your wildest dreams or keeping it simple with quaint pieces that you can add to some of your other crafts.
Take inspiration from these craft ideas and let your imagination do the rest!
Felted Wall Hangings
If you follow this blog, you'll know that I love creating seasonal pieces to make holidays and celebrations even more exciting. But when it comes to wall hangings, you can keep these beauties up year around!
From intricate flowers that can hang above your indoor plant space to simple, avant-garde shapes made from muted tones such as nude, gray, and peach, felted wall hangings can transform your home.
There's something about natural materials that can help bring a room down to Earth. When you add wooden and beautiful stone beads to the piece of wire that hangs this creation, you'll add a little personal touch to any room—no matter how big or small.
Gift Card Sleeves
Birthdays, Mother's Day, graduations, wedding celebrations—you probably have a lot going on in your busy schedule. Are you wondering how to give a sweet gift with a bit of a personal touch?
You should craft a personalized gift card holder! I don't know about you, but I love gift cards. Some people find them a bit too impersonal, but I think it's neat to be able to give someone money for their favorite shops so they can pick out stuff they actually enjoy!
While gift cards might not be the most personal gift, crafting a sleeve certainly can be. Consider adding initials and important dates or even tiny details that the recipient will enjoy such as their favorite colors, flowers, or animals.
Clothing
Spruce up your wardrobe with needle felted shapes to add to your woolen clothing. I love this trick during winter! If you live somewhere with freezing temperatures, you probably feel like you wear your dreary winter coat more than anything else in your closet. Crafting your own felted shapes is the ultimate way to make something old feel new again.
There's just something that's so beautiful about taking on this kind of challenge. Whether you want to add shapes to a coat or an old sweater, this is a fun project for you and the kids. Don't forget; this is also a great way to get festive around the holidays!
For St. Patrick's Day add an emerald four-leaf clover, and when it's the Fourth of July, create needle felted fireworks or Americana emblems for the entire family!
Totes & Bags
Are you a thrift store diva? I know quite a few gals who can spot a second-hand treasure from a mile away. The next time you're at your local thrift store, keep your eyes peeled for wool sweaters.
As it turns out, you can transform these worn woolies into cozy tote bags! You can use the sleeves as handles, and adorn the rest of the tote with your needle felted creations. Get as intricate as you desire, or for a more laid-back look, keep it simple. And hey, when you're getting such a great deal on the sweaters, you shouldn't be too afraid to play around until you find the look that suits your style!
Earrings
Nothing can transform a simple outfit like a pair of earrings. Leave the house in a t-shirt and jeans, but don't forget to throw on your felted accessories! You can buy metal earring hooks from your local craft store for next to nothing. What you do with the rest is entirely up to you.
You can add beads for a Bohemian look or felt onto hoops for a night on the town. What I love most about this idea is that you can get as crazy as you want with the colors! It's not every day that you get to use neon wool, but hey, here's a wonderful opportunity.
I've been part of this community for a while now, and it never ceases to amaze me how imaginative creators can be with their designs. If you want to meet like-minded crafters with a passion for needle felting, join the Bear Creek Felting Academy!
No need to ever feel overwhelmed, I'll be there with tips, tricks, and techniques to help you create beautiful needle felted projects. With a comprehensive video library and a supportive community, I think you'll enjoy being part of this academy! Click here to learn more.
Oh, and do you have any other crafting ideas for our readers? I'd love to hear 'em. Drop them in the comments below!