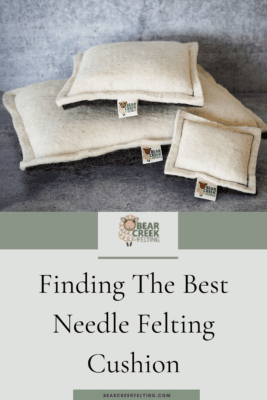 There are so many needle felting cushions out there, some more readily accessible than others. Whether you're a novice or an expert at needle felting, there are just a few things that you would expect when working with a felting cushion or pillow. Let's have a look at a few feting cushions so you can see which one(s) would work best for you. 
If you've been in the felting game for a long time, you might be familiar with the brush felting cushions. These are very popular and typically stocked in a lot of fiber arts and craft stores. They feature a brush bristle surface and a plastic base, very much like a hairbrush but without the handle. I tried the large Clover Brush Pad with my own needle, which seems to be a bit longer than the ones they make. You can place the square block, bristle side up, on your tabletop or whatever your surface is but it might shift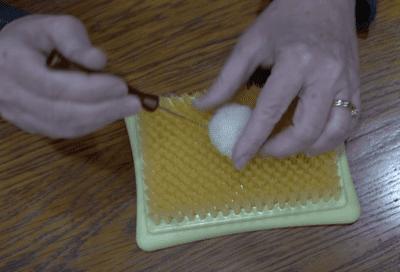 or rock easily on your surface. If you're working on a hard surface, you might need to attach a rubber sticker to it or place it on a flat felted square during use to avoid the knocking sound. The idea is that as you stab the needle into your work when it goes into the brush bristles it will be saved. However, if you are used to poking into your wool with a lot of force, the needle might go straight through the bristles and hit the bottom of the brush. This can easily cause your needle to bend or break. You have to get used to using little force, which tends to cause you to go slower. Since I tried it using my own needle your experience might be totally different if you use their needle, which has a totally different make.
Additionally, your wool will end up in the bristles over time. It won't stick inside your brush if you're felting a ball or firm piece but felting a flat surface can be challenging with a single needle. You'll have to peel it out when you're moving it around. It might also feel awkward using a single needle to felt your flat piece since you're not working on a smooth flat surface. I find that it's better to use a multi-needle tool to felt flat pieces on the brush surface. Since wool gets stuck into your brush over time, this means cleaning your brush bristles each time you use it if you don't want your wool mixing with other pieces from previous projects.  If you're used to working on this type of surface and it works for you, that's great. For those of us who are not used to the brush, it's awkward feeling the bristles shifting beneath the piece of wool as you felt. If you use it for applique, however, it can work quite fine with my long needle. But, with less resistance, it still takes longer because it requires more stabbing to get it firm.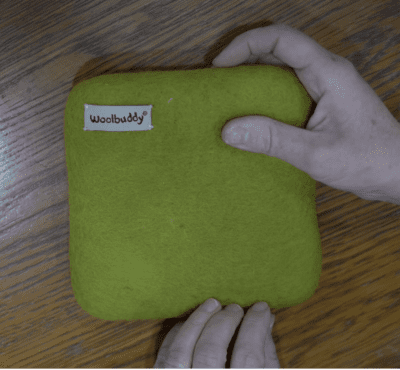 I tried another popular felting cushion made of wool, by WoolBuddy, from Nepal. They come in a variety of colors and are pretty dense even though they look too thin to work with on your lap. Unfortunately, in my research, I could not find out what type of wool it is, how the animals are treated, and how environmentally-friendly their processes are, which is important to me when sourcing products and supplies. I prefer to use eco-friendly products and methods at all times. So, I'm unable to say whether or not it's acid wash wool, which is not safe for the environment. 
I also tried the 100% wool felting pad from Desert Breeze Distributing. It's definitely wet felted with heat because it's pretty dense and hard and comes as a 5"x6" square. While we know the wool comes from South America, again, I couldn't find information on where the sheep are sourced, how they are raised, and whether the pads are being made in an eco-friendly environment. If you are a hard poker, you don't have to worry about your needle going all the way through the pad. The firmness of the pad definitely provides that resistance that's needed to make felting much easier and faster. However, this density can be tiring for your wrist if you're felting for an extended period of time.

I tried the rice-filled burlap felting cushion, where I added about 5 lbs of rice in. Right away, this makes the pillow not very portable. It's very squishy,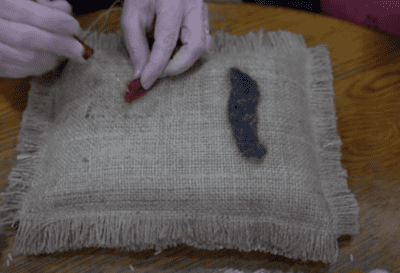 so there's not so much resistance because the needle goes in too easily. It is also not recommended to felt with this on your lap because the needle can go right through. If you're using this on a hard surface, you have to be careful not to bend or break your needle. It definitely works, and it's inexpensive, but it's also clear that the bags won't last very long. If you want to go faster and decide to use a multi-needle tool, you have to peel it off after a few stabs if you don't want it to get firmly stuck into the pillow. Peeling it off each time too can make it harder to form your shape. For the price range, this is a decent eco-friendly felting option for any level felter – if you are going to be felting in a stationary position on a solid surface. 
I found a 12x12x2 foam felting cushion made in the USA, and it's not a bad starter cushion. It is very thick, so your needle won't go all the way through if you stab into your wool very hard. Since it is foam, however, it is not very dense. In fact, it is a little bit spongy, which doesn't provide the level of resistance you need to go faster. As you felt on one part, little pieces of the foam start to stick into what you're felting.  Like with any other foam cushion, this wears-out very easily after a few projects. The parts that you use most will eventually cave in. So, if you felt very often, you'll be changing your foam pillow very often. And, just the thought of releasing so much foam felting cushions into the landfills is cringing, perhaps just as much as the high pitch noise that's made with each stab you make into your craft.
I used to use foam cushions and my garbage was filled with foam every week. Like me, many of my fellow felters were seeking an eco-friendly alternative to these. That is why we made sure that our Bear Creek Wool Needle Felting Cushions are 100% organic solid wool sourced locally from North Dakota farms that we know personally and trust, including ours. We designed our needle felting cushions firm enough to provide the resistance you need, without breaking your needle. They actually start out a little bit fluffy but the more you use them, the firmer they get. They also have a very long life-span; years and years. And, yes, they are thick enough to use on your lap without stabbing yourself with the needle. 
In my experience, many felters like the convenience of using varying size cushions based on the type of project they're working on. This is why we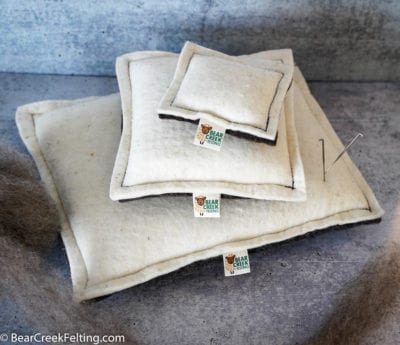 designed our Bear Creek Felting Cushions in 3 different sizes.  We also use natural colors for our needle felting pads, so there is no dye involved. Our pads are comfortable for the wrist, so felting for long periods is not painful. Beginners and novices alike prefer the ease and comfort of the Bear Creek Felting Cushions, especially compared to foam felting cushions, rice-filled burlap bags, and brush pads, and we think you will too.
Check out our website to find a full collection of needle felting courses and supplies, including our wool felting cushions.