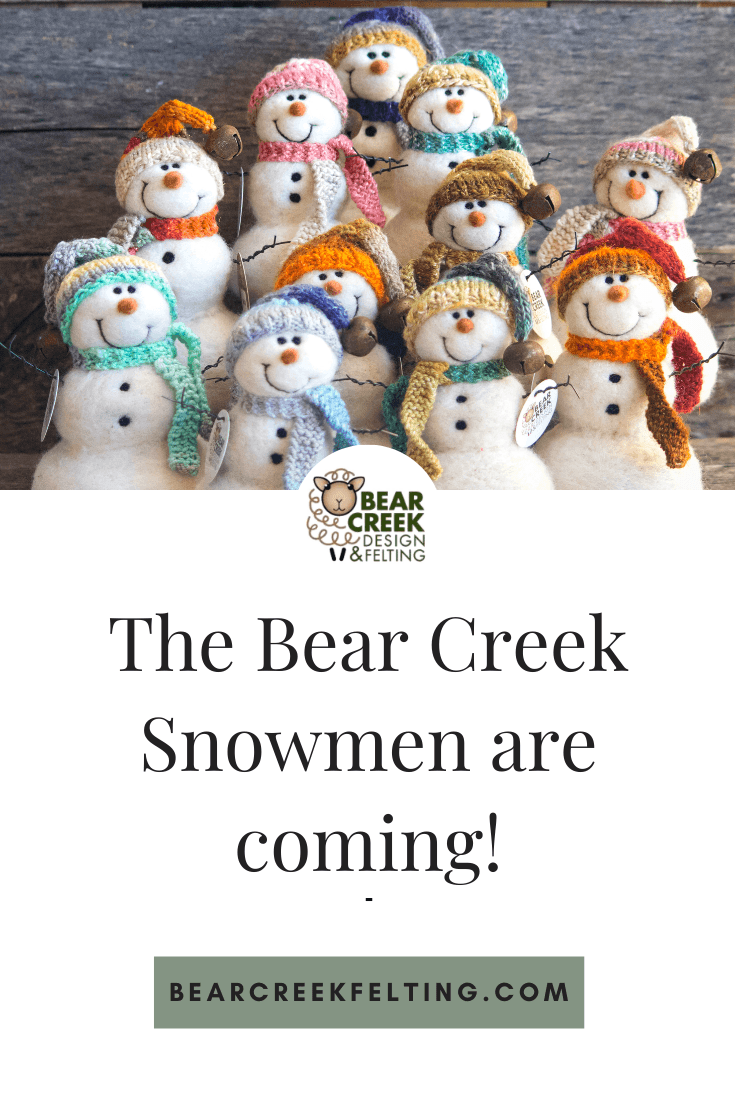 The holidays are upon us, and the farm is slowly slipping into winter. We are well into boot season, and the animals are readying themselves for the cold days and nights. Snow will fall more regularly now, which has me musing about the Bear Creek Snowmen, so I thought I'd share the story of their origin.
My love of wool began with knitting, and I bought some sheep with the intent of spinning their wool into yarn for my knitted creations. I have written before about the influence of the Wooly Women, and I met them when knitting was my focus. These talented women also introduced me to needle felting, and my passion ignited forevermore.
A Button Nose
My snowmen started more primitive than they are today. The mouths were a little scary, and their arms kept falling out. Yet, I persevered, and in the process, I perfected my techniques and went on to create complete snowmen kits that contain all the items I wish I'd had when getting started.
I have created more than 1,050 finished Bear Creek Snowmen, which I sell in my Etsy store. The snowmen begin their lives as fresh wool from our sheep; then, the fleece is cleaned and delivered to a local woolen mill where it becomes roving. Once the roving returns to the farm, I form into balls and stack to create snowmen. From there, it's needle felting as usual, poking the Romney wool until the desired forms emerge.
Signature Scarf
I hand paint the roving for the hats and scarves before spinning it into yarn and hand knitting the tiny accessories. No two snowmen are ever the same, though a tiny army of them flatter any surface around the holidays or all winter long.
The snowmen are one of the easiest kits to get you needle felting, which is why they are popular year-round in the shop. What a warm way to welcome in winter or give as gifts this holiday season!
If you're ready to start your needle felting journey, get interactive instruction and community support by joining the Bear Creek Academy! You'll accelerate your learning and be impressed by the community who will help you create beautiful animal creations!