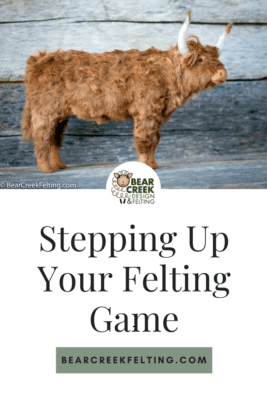 No matter what we do in life, we can always improve! I also believe that anything worth our time is worth doing to the best of our abilities – after all, time is precious! So if you're looking to push yourself this year, consider setting new goals for yourself when it comes to needle felting.
There are always new animals to make, new wool you are "dying" to use (pun intended), and skills you want to try. So why not make 2020 the year you push your needle felting in new ways?! You can start with a more advanced kit or even branch out with your own designs – your imagination only limits the possibilities!
Every time you push yourself, you increase the confidence you have in yourself to learn new things, something that is critical to our brains staying healthy! Push yourself this year and watch the changes ripple throughout your life!
Watch Videos
YouTube is an excellent platform for learning just about anything – from fixing your screen door to learning needle felting. I might be a bit biased, but our EweTube channel hosts lots of rich content that can provide both instruction and inspiration. Even when you watch a video of me completing an animal (in super-fast video time), you will pick up on techniques and tips. Check out our channel and then search for more videos to help you grow!
Everyone has a different learning style, yet with all the tools on the Internet, there is bound to be a style compatible with your own. 
Find Your Tribe
One of the great benefits of the Internet is the ability to find people with shared interests – there's a group for everything! In addition to finding groups online, you can also start a group in your community, even if you're the only one needle felting.
Start a crafting group and invite everyone to bring with them the project they are working on. Think of it as a book club for crafters! You can rotate host locations and even have the host talk a little bit about why they are passionate about their craft. There is a long tradition of people coming together to work on their art – think quilting circles or my beloved Wooly Women. Bring a group together and create support for creativity, you may even get others hooked on needle felting!
Update Your Tools
Are you using the same needles for your first pack? Are your supplies tossed into a basket, but you're not sure what's all in there? Did your dog chew the corner of your needle felting pillow, thinking it was a toy? Do you want to try working with a needle holder?
One way to level up this year is to give your tools and materials a little upgrade, including how you store and organize them. As crafters, we "collect" materials from wool to needles, and it can get a bit out of hand. Commit to making your craft storage as beautiful as the items you create!
Go On a Retreat
Find a workshop, seminar, or retreat where you can immerse yourself in your craft for a time. No distractions, no kids to drive, no sheep to feed (that might just be me), only time to focus solely on your craft and make new connections. We are working on building just such a retreat in the Nome Schoolhouse, but you could also find something closer to you. 
Push Yourself
When we stay in our comfort zones, we stop growing – as artists and people! There's a balance between wanting to master a technique or even a particular animal, and pushing ourselves to do the harder skill. Is there something you've been afraid to try? Do you want to get good at doing legs this year? What's on your needle felting "bucket list?"
You will only grow when you put yourself out there and try something you've never done before. There was a time before you did needle felting, aren't you glad you jumped in?!
Commit to expanding your needle felting skills this year and join the Bear Creek Academy! There you will find not only great lessons to improve your skills but also a community of like-minded artists who support each other. Join now and expand your art!